COVID-19: Do you worry about safety for your employees and visitors?
Here we are, after almost 2 years and Covid 19 is still with us and looks to follow us into 2022.
Yet again we're being told of new variants and compulsory mask wearing.
You may wonder like us if it will ever go away completely or if we are to live with it for a very long time.
maybe its time to invest in technology to safeguard us against viruses like Covid-19
Saint IT have a range of technologies which helps keep employees and visitors safe, our entry systems come in three different sizes to suit any size of business or venue;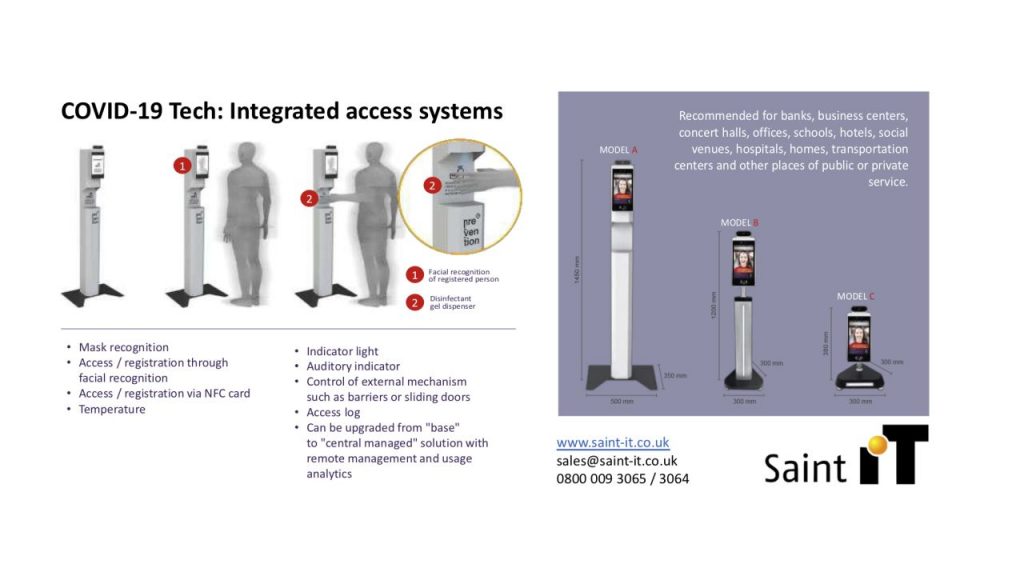 Covid-19: How do you improve safety measures:
– Temperature check
– Sanitiser dispenser, Model A
– Mask check (on or off)
– Facial recognition of registered individuals
– Can be integrated into door or barrier access systems
– Wifi or LAN connected
– Indicator lights
– Installation and support services
Restaurants, pubs, offices, manufacturing, retail outlets and venues are all seeing the benefit of this technology
This is part of a range of technology which Saint IT can provide to help combat covid-19 and keep our businesses and economy moving.
Contact us for pricing and further details.
#safety #safetyfirst #technology #covid19solutions #Covid19 #restauranttechnology #manufacturers
COVID-19: Do you worry about safety?